W tym miejscu chciałem przybliżyć dwa produkty wytwarzane przez Laboratorium Bio – Farmaceutyczne im Prof. Czarneckiego ,a mianowicie :
Propolis 10 % ekstrakt bez alkoholowy
Pszczeli Pylek mikronizowany

W tym miejscu zamieszczam ulotkę do tych produktów ( możliwości zastosowań w skrócie, oraz dawkowanie.. )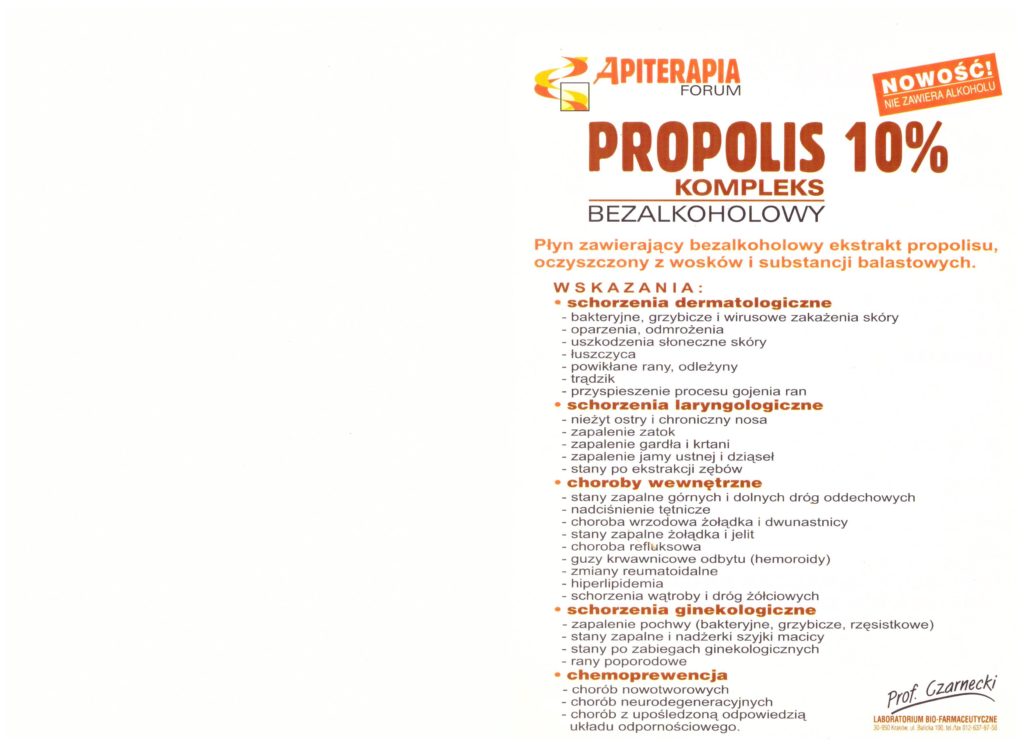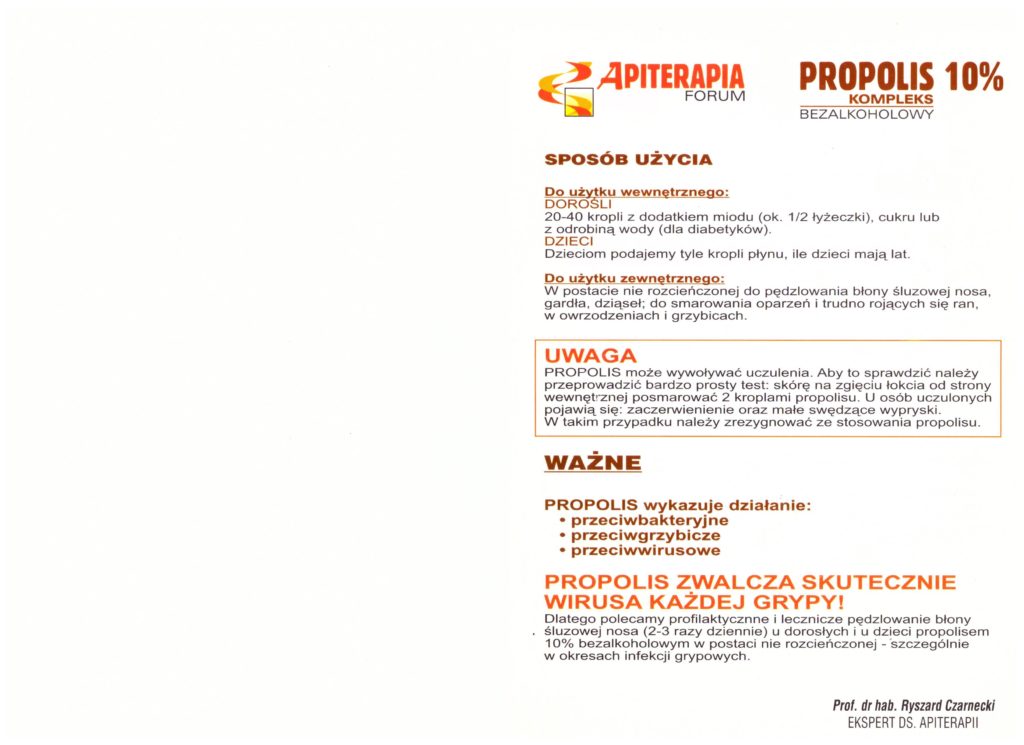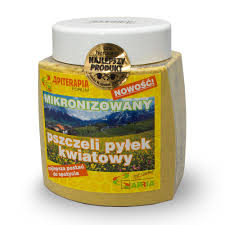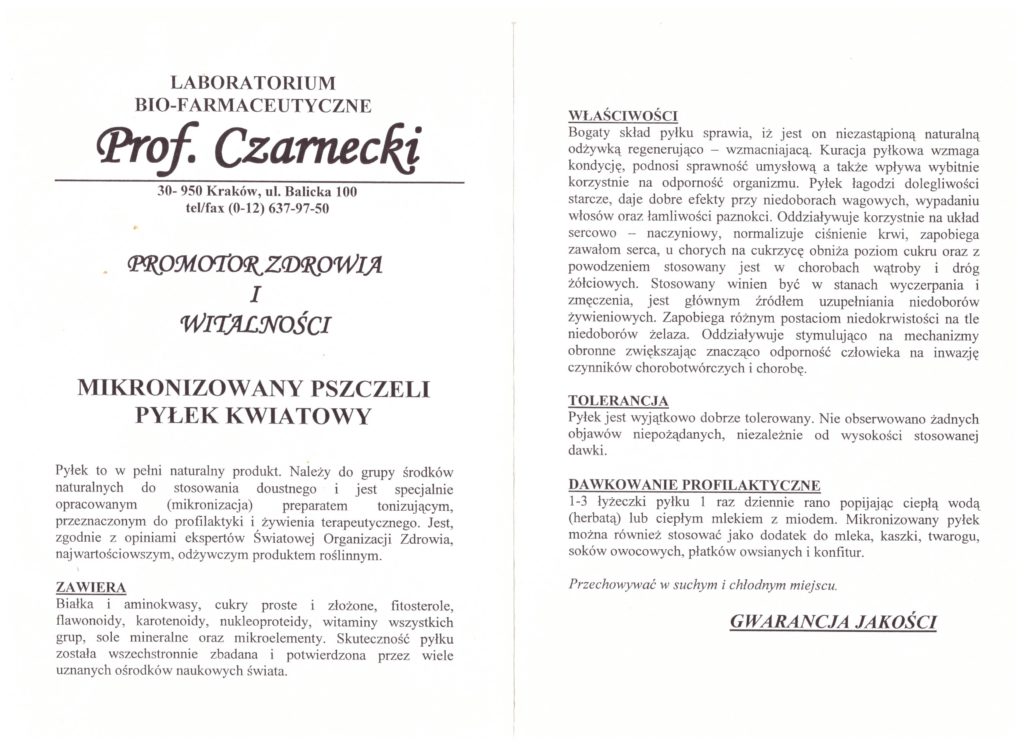 Oba produkty sprawdziłem na sobie , tzn. od kilku lat spożywam regularnie codziennie pszczeli pyłek kwiatowy mikronizowany , widzę poprawę wydolności przy aktywności fizycznej ( uprawiam rożne sporty ) tzn. dłużej mogę wykonywać różne ćwiczenia bez większego zmęczenia – chodzi o ilości powtórzeń jak i o zwiększanie obciążeń przy ćwiczeniach siłowych. Nadto zauważyłem, że po spożyciu pyłku mam lepszą koncentrację przy uczeniu się rożnych materiałów o zróżnicowanej tematyce – w moim przypadku, tematy pro zdrowotne, prawo, aktywność fizyczna, muzyka . Poza tym widzę lepiej po spożyciu regularnym pyłku kwiatowego ( od około 2 lat) , co dla mnie ma duże znaczenie, gdyż długo przesiaduję przed świecącym ekranem komputera .Ojciec zawsze wspominał, ze pszczeli pyłek kwiatowy ma dobroczynne działanie na nerw wzrokowy i plamkę żółtą w wewnątrz oka, odpowiedzialną za dobre widzenia oka .
Odnośnie ekstraktu propolisu to stosuję go od pewnego czasu, w momencie gdy czuje , że moja odporność spada i mógłbym zachorować ( przeziębienia, grypa ). Po spożyciu kilkunastu kropel ekstraktu propolisu wraz z pyłkiem pszczelim w większości przypadków udaje mi się nie chorować od kilku lat. Nie bylem u lekarza w celu leczenia około 25 lat ( Udaje mi się po prostu nie chorować ).
Dodać pragnę że spożywając regularnie pszczeli pyłek kwiatowy i propolis a równocześnie ażeby utrzymać zdrowie przez większość czasu życia zamieniłem cukier na miód pszczeli i tylko nim słodzę wszystkie napoje (około 9 lat).
Poniżej fotografie dwóch książek i dwóch nowych broszur dotyczących Apiterapii autorstwa Prof. Ryszarda Czarneckiego.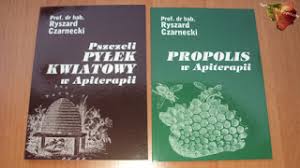 W ostatnim czasie w roku 2018 Profesor Ryszard Czarnecki wydal dwie broszury, które są obecnie do sprzedaży w cenie po 11 zł każda . Można je zamawiać na stronie www. ARRIA.pl wysyłając zamówienie na formularzu .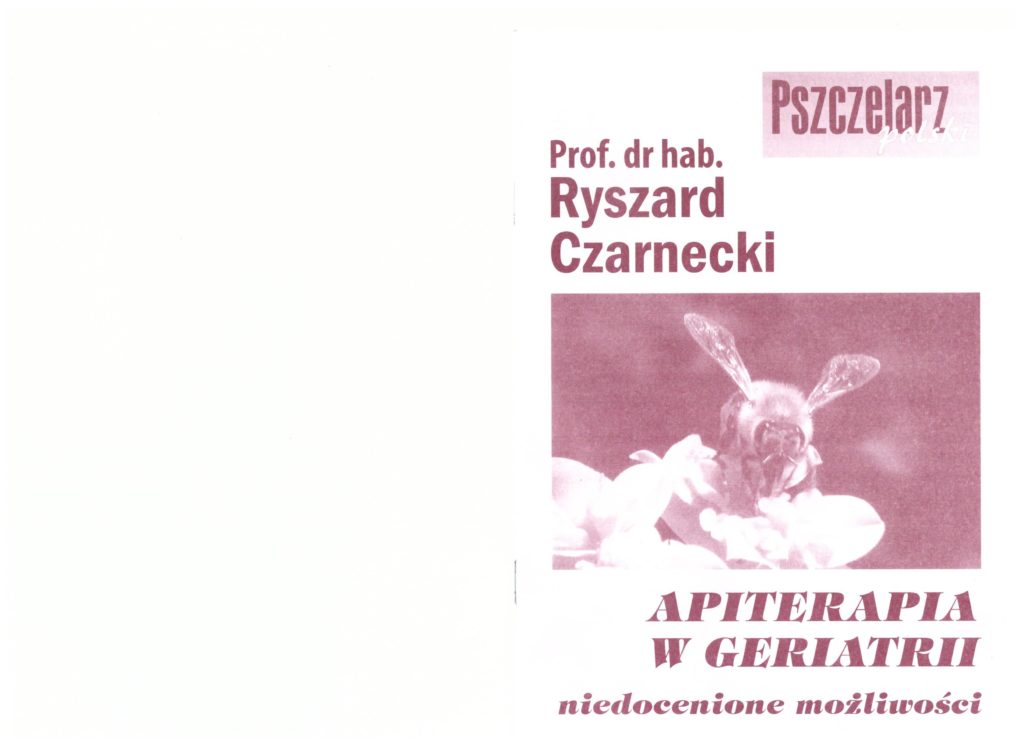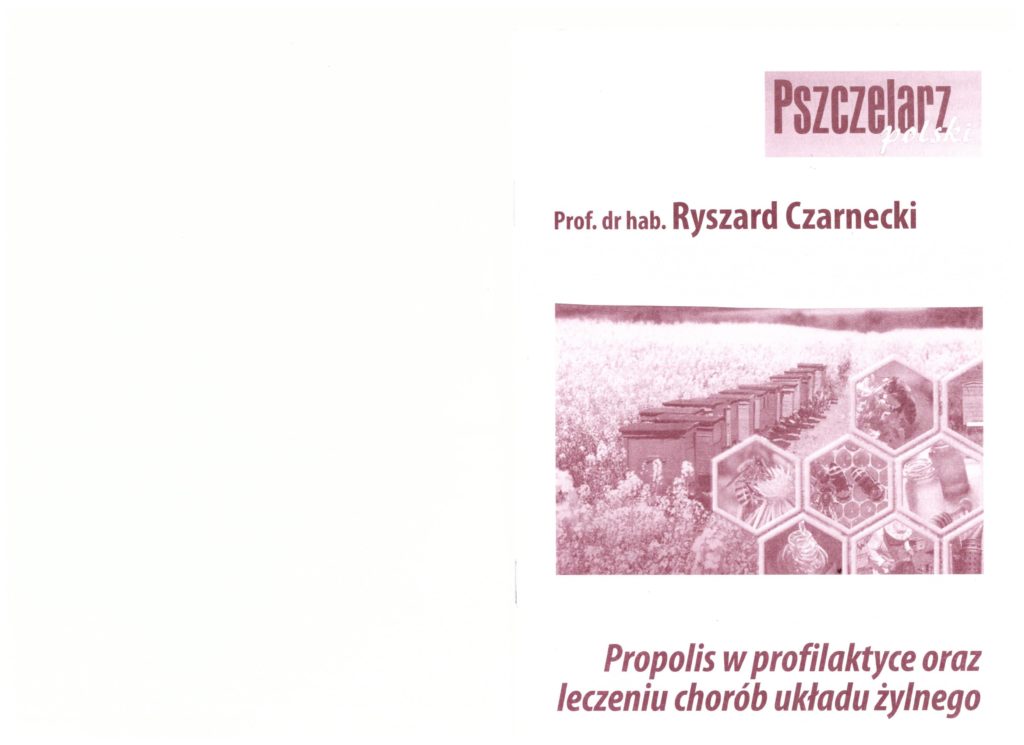 W sklepie www. ARRIA.pl można dostać także dwie publikacje – książki pt jak wyżej "Propolis w Apiterapii " oraz " Pszczeli pyłek kwiatowy w Apiterapii " -na zdj., opisują one w sposób wyczerpujący możliwości zastosowania propolisu i pszczelego pyłku kwiatowego, dawkowania dla osób zdrowych, chorych, rekonwalescentów. Uważam , że warte są przeczytania, gdyż większość osób , nie zdaje sobie nawet sprawy, w jakich sytuacjach te specyfiki mogą pomóc i w jaki sposób. Zawierają one wiedzę jaka posiadał profesor Ryszard Czarnecki , który od kilkudziesięciu lat zajmował się produktami pszczelimi , od strony naukowej jak i praktycznej, i był on prawdziwym ekspertem w dziedzinie Apiterapii w Polsce. Ojciec opowiadał mi , że nawet koledzy lekarze ,profesorowie medycyny w małym stopniu znają korzystne właściwości produktów pszczelich, nie znają sposobów leczenia za ich pomocą , a słowo Apiterapia jest im obce . Stwierdził , że spowodowane jest to tym, ze w obecnych zakresach nauczania farmaceutów i lekarzy w Polsce brak jest działu nauczania o Apiterapii i produktach pszczelich pod kontem pro zdrowotnym, i samoleczenia się ludzi ( przyszłych pacjentów ). Książeczki są obecnie w cenie jedynie 14 i 25 zl.